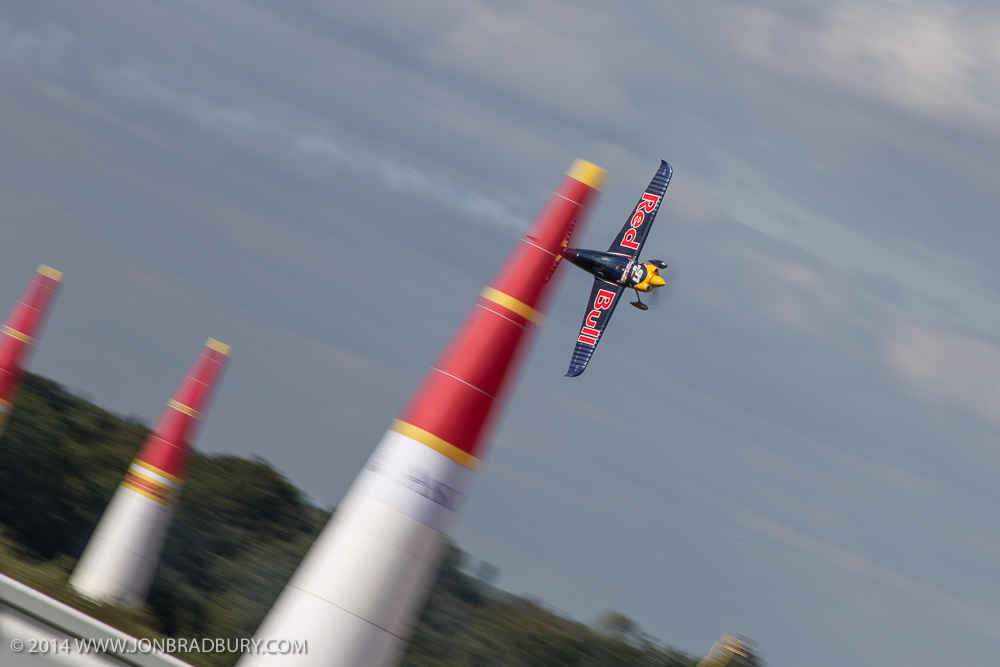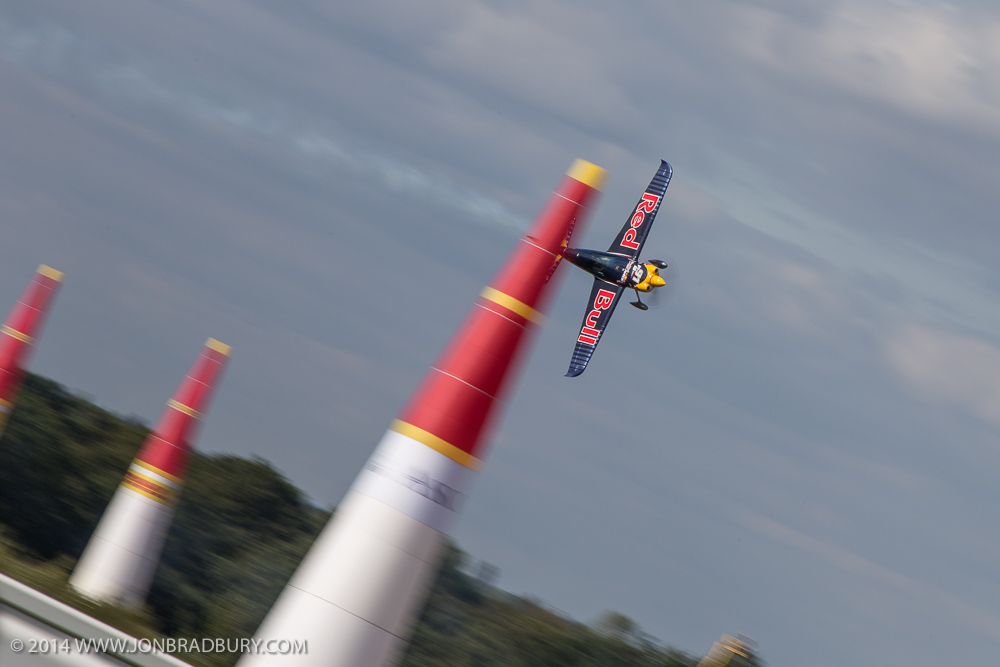 I went to the last UK Red Bull Air Race back in 2008 over the Thames, and it was a cracking event, so was really glad to hear it was back this year, especially as the sport itself has also had a break for a few years too. I've always sold it to friends as kind of F1 but in 3D, as not only do the pilots have to navigate the twists and turns of the course route at speeds upto 250mph, but at the same time maintain a height of just 15-25 metres off the ground, except for during the turning manoeuvre at the ends of the course, where they then pull hard turns often achieving 8-10g, though carefully not exceeding, as pushing 10g equals a DNF result. For comparison F1 cars are running around 190-200mph at their maximum, and upto 5g in turns and braking.
As if the pilots didn't have enough to contend with, they also have to pass through these gates flat, with a tolerance of around 7º, failure to do so incurs a 2 second penalty, flying high incurs a 2 second penalty, hitting a pylon incurs a 2 second penalty, and failure to have "smoke on" incurs a 1 second penalty. With the top pilots being separated by less than a second at the finish line, a penalty is something they can ill afford.
Being air based, a great advantage is that you can generally pretty much see the whole course, even from the cheap seats, so no missing any action around the tail end of the course. Despite earlier comparisons to F1, one place it does thankfully differ is ticket prices, we went to qualification which were £25 in advance or £30 on the day, and I think race day tickets were £30/£35. Last time I checked Silverstone, just general admission tickets were £200 before you even started getting lavish with your choice of seating.
Due to the layout of Ascot, and the planes being used, for the first time ever at an Air Race we even got a standing start, with the planes taking off and landing right in front of us, just to add to the spectacle, and giving great views of the pilots.



To be fair, I don't think anyone else there had a clue either…
There was also entertainment from the RAF Chinook Display team
Which as ever displayed it's ability to tell physics to get bent. Always in awe of the pilot of these things as they sling these bungalow sized machines around as if they're a hot hatch
Terror at 3000′ as giant Chinook targets 747 for breakfast
and the Spitfire flypast.
Quite probably the best views I've had of one of these at ANY event.
and the Breitling Wing Walkers
New for 2014 is the Challenger Cup, where unlike the Masters series of the Air Race where each pilot has their own plane, the racers share identical planes, so the only advantage is down to the pilot and their choice of lines.
These have been introduced to give a starter formulae to help make the Masters series safer
but it does mean the only way to tell them apart in the pictures, is by their helmet and race suit.
Come race day, Ascot was a great day for the Brits, with Paul Bonhomme taking the win
and Nigel Lamb who was celebrating his birthday, just .171 of a second behind taking second place.
More images, click on a thumbnail below to see more, you can use the arrows to flick between the images.
Technical details:
All shot on Canon EOS 6D with Canon EF 70-200mm F/4L USM with Kenko 1.5x tele-converter fitted.