This is my old & much missed VW Golf GTI mk2 8v. One of the first of the '88 spec with Digifant engine, RHD wipers, and no quarter-lights. Mainly a post as it's about time there was some pictures back up online of her somewhere.
Bought as I was seeking a cheap runabout when I found this on a dealers forecourt, essentially 2 owners from new, 60,000 miles on the clock (at 13 years old), £1500.
The 2nd owner had fitted VW Montreal 14″ 'bottle top' alloys over the standard 13″ the Golf came with, but he's been doing so little mileage there was a 'rear tyres approaching minimum' warning in the receipts from 5 years earlier and it was still on the same tyres. This was promptly used as an excuse to fit a set up Hockenheim style alloys, unfortunately Fox rather than TSW, as I wisely spent the money on Yokohama tyres to wrap around them instead.
The Golf when I bought it had a small amount of rust on the passenger door, a small dint on the top of the wing, and a little rust around the towing eye hook. Those that followed the BMW repair will know this work was entrusted to @bunie78, and he also carried out the work back in 2000 to my Golf. Whilst at it, we also (yes we, I took the week off work and did nearly all the prep work) the rear was smoothed and de-badged. Though I quickly decided the rear looked a bit bare and refitted mk4 badging.
Other than that it was than mainly run on a 'if it ain't broke don't fix it, but if it does upgrade' so when the exhaust fell off, a Magnex stainless was fitted. Brakes were virtually always Zimmerman discs & Pagid Fast Road pads (a firm favourite on GTIs) though I did also run the expensive (at the time £60 vs £20 for Pagid) Ferrodo DS2000s once which were EPIC!
The brakes did actually see a bit more attention, I got through two sets of rear calipers seizing before upgrading to mk3 style (also needs the copper pipes rerouting at the rear), and after an MoT advise of deteriorating hoses, Goodridge braided were fitted all round. One extra foible in winter was moisture in the handbrake line would also freeze your handbrake on, so learnt not to use it when parked during winter…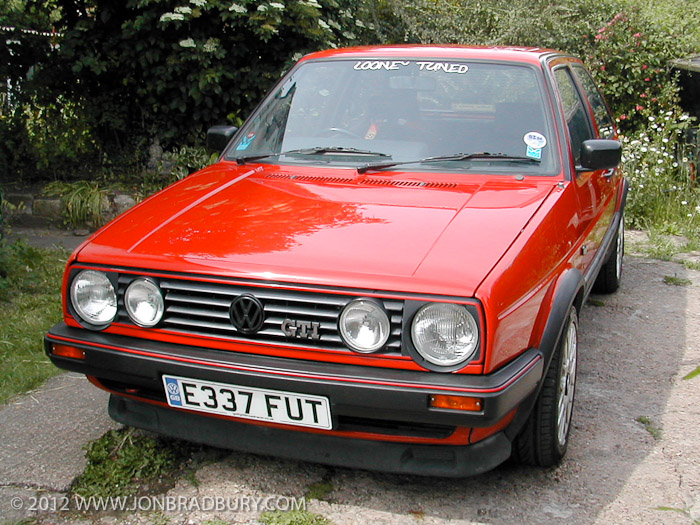 She was treated along the way to M3 style rear lights, clear indicators, and some new number plates, and as the previous owner had also fitted a Cobra bucket seat on the driver's side, I decided to add a 3 point harness. Between the Golfs chassis, tyres, & the harness meaning you knew exactly what was happening beneath you, I had BIG confidence in this car and could cover cross-country at great pace. This was the non PAS car, which meant whilst the steering was "jesus fucking christ heavy" at parking speeds (as was the clutch), but was delectable at anything above 5mph. Pin point superbness.
The only other work was fitting full FK suspension (which was a tad on the firm side for UK) with a 40-50mm drop when the original shocks gave up, this also necessitated fitting of a CL front spoiler over the standard GTI as clearance was minimal (see top picture), and the standard GTI item scraped both home & works drive when driving in or out.
Other than that, the Golf was basically just serviced, then driven fast daily, and enjoyed. Over six years I put over 80,000 miles on the clock taking her up to 145,000 miles. At this point she was getting tired in a few places, and I didn't have the time & finances to do it properly, so I had to take the hard decision to sell. Still even at 19 years old besides a small amount of rust on the tailgate and front wing, the car was solid, and generally all sound. One of the reasons I've stuck in the VW Audi camp so long, as the build & reliability of the Golf along with my dads Porsche 924S/944S really impressed over the years.
For a fun drivers car though, it's still my bench mark, and if the circumstances allowed again, I'd buy another in a heart beat. No toys, no frills to distract, just you, the car, and go find some superb roads.