A few months ago on the BBC Top Gear twitter feed was a tweet along the lines of 'Enter here for a drive of our reasonably priced car', so as you do, you do, and then forget all about it.
Last Wednesday at work the phone rings "Hi, this is David at Top Gear, you won a drive of the Reasonably Drive Car down at Dunsfold Park, it's next Tuesday…can you get here." I'll be there by hook or by crook I don't care. It's a bloody good job my 9-5 is quite flexible, so getting the time off was a simple "I've won a Top Gear prize, it's next week, I won't be in" email.
At the event there was 24 taking part (12 winners, 12 guests), and we were split in 4 groups, and we all had 5 events to take part in.
These were Blindfold Driving, Head to Head, You in the Reasonably Price Car, Advanced Instruction (or Magical Mystery Tour as also called), and a ride with 'The Stig' in an Ariel Atom.
"Blindfold Driving" was pretty much as described, we were assembled in to a pair of Kia Sportage and off to a pair of identical set out courses laid out in cones. It was basically a mini autocross course, do a slalom, 450º round a roundabout in to a box stop, back in to another box, then right and back over to a finish box. Simple. Well till you actually try closing your eyes, or even with the blindfold on. Think I managed to keep my attempt on the tarmac & posted a fairly decent time
Next off was the 'Head to Head' challenge. Time for a car change & into the funky Kia Souls.
This was a slalom circuit with a cone to do a 360 round at each end, but there was a start/finish line on each side, whoever does the full lap and back in to the start/fin box first wins.
Sitting on 18s these took some serious chucking about between the cones, reassuringly grippy, shame about the derv engines up front in these ones though.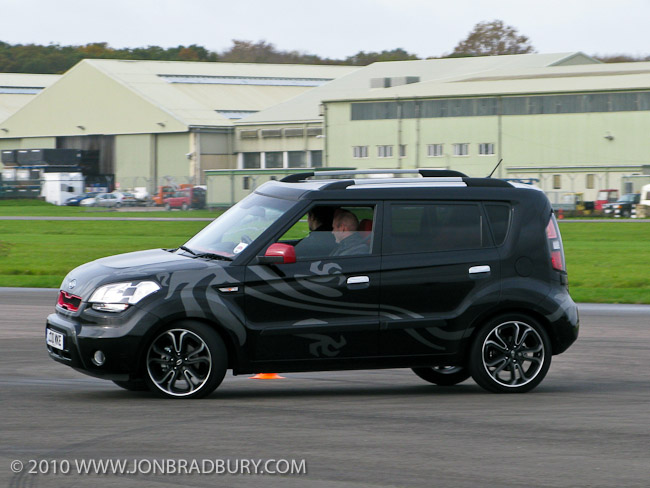 All finished we all jump in to the Souls to head back to the Top Gear production office for lunch, our race driver radios over to the other race driver, shall we make sure the tracks all OK before we leave…
After lunch we were on to the bit that had got us all down here, a drive in the 'A Star You in the Reasonably Priced Car' around the famous Top Gear Track. Spied when we first parked up that I'd parked next to one of the old Chevy Lacetti's
though evidently not the one crushed under a pair of chimneys. There's also the even old Suzuki Liana kicking around for the F1 drivers but that wasn't to be seen on the day.
What was very clearly visible were the two manual boxed Kia Cee'd that they use for the series. There's apparently an auto equipped car for the yanks that can't comprehend stick shifts but we wouldn't be needing that.
We got took out with the pro's for an acclimatisation lap, then 3 practice laps. I'm usually a quick driver, but even for me it was a surprise just how fast you could get these to hang on round the bends when with a big wide runway you've not got to worry about running wide too much. Even that first left hander is faster than you realise, and then the follow through & tyres, you just keep planted and let the tyres worry. Then on to the timed lap "you've been good on the practices, reckon you're in for one of the fastest of the day here" nothing like a bit of pressure…, in to the first left hander, I thought I'd entered too fast, the pro reckons I was looking at the apex and not the exit, whatever, I ended up going backwards on the damp grass on my one & only timed lap. Bollox, bollox & thrice bollox. No second chance, so a rather lowly time for me. Fastest guys of the day were posting 1.47-1.49s and I'd been on par with those guys, probably never know now. Spin meant I'd got a 2.10. I was also in the car equipped with a camera, so no doubt this footage will be on the Top Gear website soon 🙁
The 'Advanced Instruction/Magical Mystery Tour' was basically a drive around the perimeter road, what you wasn't necessary aware of that you were being scored. Apparently only one of us would pass our tests, though few of us (self inc) got commendable mentions, unlike one who carried on through the 15mph limits by the two schools on site at 70mph.
Whilst we sat around waiting for our turns in those, we had a neb around the production office. Rest assured this is not where the team spend the budget
The 'swanky' production office complete with leaky roof & 'swish' celebrity green room
"Richard Hammond is an enormous slobbering cu…" , nothing is thrown away, recognise these doors?
Cool wall in a box, and the 'Audi Do That?" high speed tracking car
Anyway back to the fun stuff, to wrap up the day, we were to get a ride in an Ariel Atom
with a tamed racing driver in a white suit.
OMG this thing flies, I think 'awesome' was bandied about plenty after the rides. It shifted, and cornered like nothing I think any of us had experienced before, and the whine of the supercharger behind our heads…, and it was smooth too, was expecting more of a roller coaster ride, but except the hard braking into the corner that had you pinned in to the harnesses, it was all very smooth. A great finish to a great day.
Have to say a big thanks to the BBC Top Gear Team & Kia for arranging the day, the pro's for teaching us how to drive, & Ariel for the loan of the awesome Atom.
*also credit to @majorgav for the 'splitting the atom title'.